Dear



Tennis serve has been a focus of mine for several years now.

I've made it a huge focus to get better in my serves and help my students to improve their serves as well. I've learned a ton along the way, and just when I think I'm getting pretty good, reading and watching other tennis coaching stuff made me realize how much I have left to learn.

Regardless, here's a collection of things I've been thinking about with regards to the tennis serve.

Enjoy!

==>15 Random Thoughts On The Tennis Serve

If you like this article, please share with your friends who may benefit from it.

I would also like to invite you to subscribe to my new website, www.unleashyourtennis.com. . Simply enter your name and e-mail address and you will instantly become a member of unleashyourtennis.com.

If you want to win more tennis matches, subscribe to this cutting edge website now!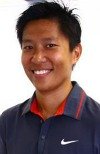 Joel
Founder,
www.unleashyourtennis.com
www.improve-your-tennis.com


Follow me on twitter

http://www.twitter.com/Joel_Loo

Find me on Facebook

https://www.facebook.com/improve.your.tennis