Dear



Whenever you arrange a tennis session with your friends, both of you are eagerly on the court, playing tennis. However, the thing is that both of you are struggling with is to keep the ball in play. I have seen that happening to many people, while I've been playing or coaching at the public courts.

If you and your friends belong to the following categories,
1. Can't rally for more than 6 shots
2. Miss the ball frequently
3. Balls keep going to the net or
4. Balls are spraying all over the court without control
5. Scared of high balls,

you will find this new article very helpful to you.



==>7 Tips To Help You and Your Friends Enjoy Playing Tennis More



If you like this article, subscribe to my new website, www.unleashyourtennis.com. .

Simply enter your name and e-mail address and you will instantly become a member of unleashyourtennis.com.

Recently this website had a makeover. So check it out and give me your comments on the new makeover of the website.

Here is the article again.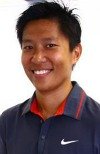 Joel
Founder,
www.unleashyourtennis.com
www.improve-your-tennis.com


Find me on Facebook

https://www.facebook.com/improve.your.tennis