Free Improve Your Tennis.com Newsletter!
If you like my website but don't wish to spend time checking the site every other day for new pages or tennis tips then receiving the FREE Improve Your Tennis.com Newsletter through your email inbox is your best option!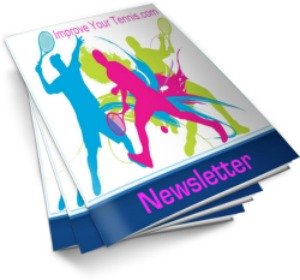 As a subscriber, you will receive the newsletter every two weeks and each newsletter will show you:
updates of all additions on the website
cutting-edge tennis tips to improve your tennis game
relevant and useful tennis instructional videos
mental tennis tips to improve your mental strengths
fitness tips relevant to tennis
my personal recommended resources related to tennis
You can even ask me questions and I'll answer you in a short article or reply to you directly.
Subscribe now and you will receive not 1 but 2 FREE GIFTS!
The first is an exclusive bonus e-report, "8 Secrets To Become A Top Tennis Player" (valued at $19.95!) . I have specially researched and wrote this report for my subscribers only and it will not be published.
In this report, you will find,
8 secrets what it takes to be a top player
Inspirational quotes from tennis players
What sets a top player and a recreational player apart
Relevant examples of modern tennis pros
Read what my subscribers have to say about the report:
"Joel, that was a well thought out and well presented report. You provided quality content there. Thanks." Jack
"Hi Joel, fully agree with what you mentioned in this report, and I have some self-thought after reading it, I find it very true, in fact most of the players that I talk to don't have the attributes to be a top pro. Great stuff." Anthony
"Hi Joel, thanks for that excellent report. Your thoughtfulness in terms of educating and inspiring your readers is outstanding and one of the few lists I actually am glad to be on." Kay
"Hi Joel, I totally agreed with your statement "As with so many things in life—either on the court or off of it— possessing the proper attitude is absolutely vital in reaching success." Without the right attitude, what is the use of having the best coach and best equipment around?" W.T Kim

The second free gift is my personal creation of a "Tennis Serve Cheat Sheet"(valued at $9.95!).
It contains 7 key elements of mastering the tennis serve. You will find that the number one key element in my cheat sheet is not commonly taught by tennis coaches. It is simple yet often neglected.
By following the step-by-step cheat sheet, you will have a quick understanding on how to analyse your own serve and learn how to execute the perfect serve on court!
Oh yes, I forgot to mention that there are 4 links in the cheat sheet to direct you to watch the slow motion serves of Roger Federer, Rafael Nadal, Novak Djokovic and Maria Sharapova.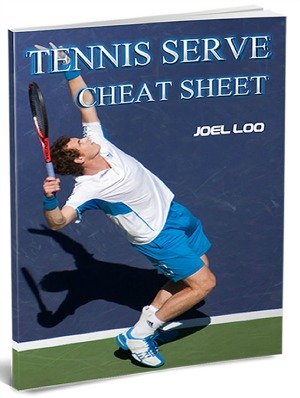 All these are totally FREE and yours to enjoy. You don't have to pay a cent for the newsletter and the free gifts.
More than 2000 subscribers have claimed the free gifts. You absolutely have nothing to lose by subscribing to my newsletter and get these 2 free gifts.
Sign up below to subscribe now.

From "Free Improve Your Tennis.com Newsletter!" To "How To Play Tennis Efficiently And Become A Better Player"