Tennis Apparel And Purchasing It Wisely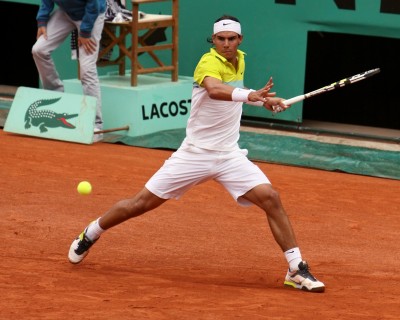 In my opinion, tennis apparel in the modern era has evolved to become a strategic part of an effective game plan, as well as to allow for the expression of individuality and style.
Apart from suitable and comfortable underwear, the clothing items relevant to the game of tennis are:
1. Comfortable, absorbent socks with reinforced/cushioned soles.
2. Light, breathable and comfortable shorts and T-shirts for men, and mini-skirts and T-shirts, or one-piece mini-skirts for women
3. Quality tennis shoes that provide a snug and comfortable fit with the necessary amount of grip depending on the court surface
4. Absorbent and comfortable head and arms bands
5. Optional caps that shield the head and eyes from direct and bright sunlight.
The focus is on taking a minimalist approach in wearing only the items that are absolutely necessary in an attempt to maximize comfort and range of movement.
Making A Wise And Strategic Investment
Choosing the best tennis apparel has to do with facilitating motion that is as comfortable and unhindered as possible. Shorts, skirts and tops should allow for a totally uninhibited range of motion as the various strokes are played and dashes are made around the court.
Pure cotton is a fantastic fabric as it keeps the body cool and comfortable and it is also very absorbent. This is of course very useful when the body is very active and perspiring. Cotton head- and arm-bands also prevent perspiration from getting into the eyes or onto the hands, neither of which makes for an effective playing scenario.
Another popular type of material for sports wear is polyester. This kind of clothing is light and dries quickly. A lot of brands are producing their own kind of sports wear that are made up of polyester or a mixture of polyester and spandex. You can check them out from your nearest sports shops.
The Importance Of Quality Footwear
Proper footwear when playing tennis is crucial. The feet take quite a battering during an average match, and it's vital to keep them protected and supported. Cushioned-sole cotton socks go a long way towards keep feet safe and sound. Also, investing in quality tennis shoes is incredibly important.
Quality footwear is arguably the most important aspect of effective tennis apparel. It helps prevent knee and ankle pain and injuries, and allows the player to focus on their game with the minimum amount of strain and fatigue.
An increasing amount of amateur and professional players are also investing in suitable headwear (typically of the baseball cap variety), in order to limit the hindrance of their eyesight due to direct sunlight, as well as to protect themselves from the harsh rays of the sun.
The player who enjoys the benefit of wisely chosen tennis clothing and accessories enhances his/her enjoyment of playing tennis.
More helpful tips and information on tennis apparels:
From "Tennis Apparel And Purchasing It Wisely" To "How To Play Tennis Efficiently And Become A Better Player"