Should Your Child Learn Tennis?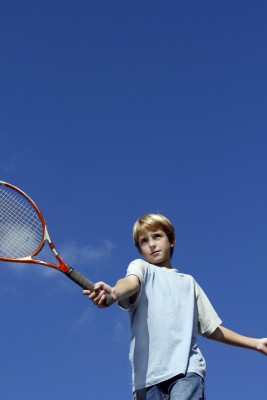 A few days ago, I was watching a friend's daughter, Claire, playing a Under 10 age group tournament. It was good to see that her parents and even her grandmother are very supportive of her playing tennis. I think parents nowadays are always looking for a good sport for their child and more and more parents are starting to turn to tennis as the perfect sport for their child. The benefits of tennis go far beyond simply learning good sportsmanship skills, it also goes deep into learning good skills in terms of eye coordination and even hand eye coordination just to mention a few. However how should you decide to let your child learn tennis?
The first step should be deciding if your child enjoys playing with large groups of people such as with football or soccer or if they prefer to play solo sports. While tennis is not so much a solo sport you are playing against another three people (doubles), rather than an entire field like many team sports involves. If your child does not like the idea of playing on their own then tennis may not be the best match for them. Remember your child must be having fun while playing so observing if they are enjoying the game is very important.
Children should also feel comfortable having a ball flying at them at high speeds. While nobody really sets out to walk onto the tennis court and be hit in the head with a ball, it is a possibility that is entirely possible to happen. If your child is quite shy they may not be comfortable with this idea, however if they are not easily intimidated then you may not have any problems with your child being upset over this. Many children take this as the perfect time to get started really improving their skills and technique in order to protect themselves from the ball.
You should also look at the benefits that tennis can provide. It is a great form of exercise that allows your child to move around the tennis court a very great deal thus providing them with plenty of exercise. At the same time, it is also possible to practice improved hand eye coordination, teamwork skills and even learn how to make quick decisions at a split second. A child who has issues making a decision is generally not cut out for tennis, however a child that is able to just jump in and make a fast decision will generally do very well at tennis.
Another good benefit of your child learning tennis is the ability to practice on their own. While team sports need more people to practice or play a game, tennis is actually quite easy to practice on their own. Your child just needs a solid wall, tennis ball and racquet and they can easily practice almost anywhere, even at your home. This allows your child to have the time to practice which can be a huge help if you are looking for the best sport possible that will not potentially damage your property.
For parents who are looking for a competitive sport, tennis makes a wonderful choice. You can choose just how many or how few tournaments you are comfortable with that your child is participating. Just like Claire who is 9 years old, she has participated in 3 tournaments this year. If you can afford it, you can engage a private coach to train your child and that is the fastest way for your child to improve. Who knows your child could be the next Roger Federer or Caroline Wozniaki in future.
Well, back to Claire's match on that day. She lost 7-9 to her opponent. She didn't play badly and she almost caught up at the later stage of the match. Her opponent has a better forehand and able to exploit Claire's weaknesses. The positive and the most important thing is Claire enjoyed the match and acknowledged that she needs to change certain techniques in order to improve her game.
Who says losing is a bad thing?




From "Should Your Child Learn Tennis?" to "How To Play Tennis Efficiently And Become A Better Player"

Learn more about tennis