Tennis Footwork - A Crucial Part Of The Game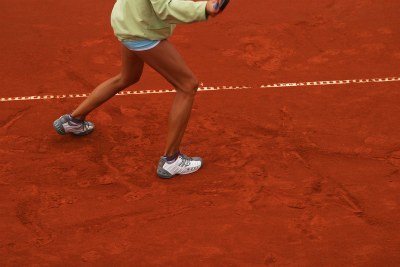 The importance of effective tennis footwork in the pursuit of effective playing technique can not be over-emphasized. If you are able to move effectively and efficiently on the court, there is no doubt that your game will improve tremendously.
I will share 3 simple and easy to practice footwork drills that you can work on that will greatly improve this aspect of your game.
Direction Drill
Start by standing in the center of one side of the court (this represents your home base). Begin sprinting to the right so that you are eventually able to touch the fence, and then sidestep back to your starting position and beyond until you reach the fence on the other side of the court.
Return with sidestepping back to your starting point, and backpedal to the fence behind you, and then immediately make a dash for the net.
Once you touch the net, backpedal back to your starting point and then run on the spot for half a minute. Repeat the entire process 2 or 3 times. This workout is beneficial because it closely resembles the tennis footwork which will be utilized during the course of a game.
Return To The Center Drill
Begin by standing at the centre of the baseline. This position can be known as your base position or recovery position. Arrange for someone to throw or hit a ball to your forehand side, approximately 3 or 4 steps away. Once you hit that shot, return with sidestepping back to your recovery position. Repeat this motion for about 5 times, and then take a little break.
Repeat this drill on the backhand side of the court. Ideally, you'll want to aim for around four sets of five balls on both the backhand and forehand sides. The primary aspects of this drill are effective footwork as well as hand-eye coordination.
Anticipation Drill
While the tennis footwork incorporated into this drill may seem elementary, it is very beneficial for learning to anticipate and efficiently move towards the next shot. One person is positioned at the baseline, with the other directly facing them and saying the words "backhand" or "forehand".
Once the word is spoken, the person positioned on the baseline must run to the side of the court mentioned, play the stroke, and then sidestep back to the recovery position.
This drill works best when the commands are given quickly, and as unpredictably as possible. The focus here is on getting the player to be prepared to respond to any return at a moments notice. The shorter the response time for correct anticipation gets to be, the better the player will be in the context of a real tennis match.


From "Tennis Footwork - A Crucial Part Of The Game" To "How To Play Tennis Efficiently And Become A Better Player"

Learn more about techniques used in playing tennis.