Tennis Coaching Tips: How To Communicate With Your Players
Coaches play a valuable and critical role in the development of any tennis player. Whether it is a junior who is new to the game or a keen amateur player competing in tournaments there are a range of communication principles. Following these tennis coaching tips will mean that the player gets better outcomes, while also making sure that their tennis experience is a positive one.
Enjoy It
As a coach, emphasising the fundamentals of the game and the technical aspects are important. But it is also critical to remember that tennis is a game, a hobby and a social pursuit that is a fantastic way to meet people and make friends. This means that a coach – player relationship should also have moments where both have fun.
Whether that means playing a target practice game competition or simply sharing funny stories as you pick up balls, having fun and enjoying the experience is a huge part of an effective communication strategy.
Adapt
Each player you coach will come to sessions with a different goal. Some will want to learn the basics, some will want to master their forehand and some will want to be able to serve at 90% accuracy.
It is important to communicate with your player and identify what they want from their session. This means that you both are working towards the same goal and will also make the player more open to discussing areas they want to work on. It is also the best way to customise and tailor your tennis coaching to each player.
Goals
An often-overlooked communication tool for tennis coaches is setting individual goals for each player. With these, it is important to be specific, as "improve overall game" does not give a definite target to aim at. This may involve sitting down for five minutes with a pen and piece of paper to write down the targets that you want to aim for.
It is also advisable to break these up into short, medium and long-term goals. For example, a short-term goal might be to increase serve speed by 5mph to the players game and a long term goal may be to play in the next division up in the next 12 months.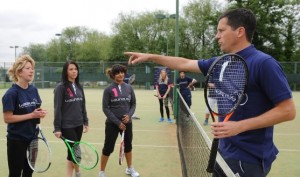 Routine versus Variety
As a coach it is important to find the right balance between routine, which improves players fundamentals, and variety to keep coaching sessions engaging and interesting. Finding the appropriate balance means that you will have to speak with your players and also pick up on non-verbal communication tools like body language to know what mix is appropriate.
Feedback
Constructive feedback is the most important communication tool that a coach should have. There are many things that encompass this. The first is giving feedback in a way that is likely to have it accepted and worked on. For this, timing is very important. For example, telling a player about all their mistakes after a tough loss is likely to see them "switch off" or become upset.
Asking questions is also an effective way to give feedback, as it allows the player to take ownership of the area that they want to fix. You could use questions such as "which area of your game do you want to work on following that game?" or "do you think your second serve was as reliable as it could have been?"
Giving clear goals and areas to address are also a way to motivate a player and communicate effectively. For example, saying that "we have a lot of work to do" is not specific and be discouraging. However, saying "today we're going to make your serve one of your strengths" is encouraging and also lets the player focus on a result. This works particularly well for younger players.
Tennis coaching is an extremely rewarding experience, and by using these effective communication strategies both you and the player can achieve great results.
From "Tennis Coaching Tips: How To Communicate With Your Players" To "How To Play Tennis Efficiently And Become A Better Player"
You may also like:
What Playing Tennis Can Teach You in Life
Tennis Statistics: Analysing Your Tennis Game